Small Black + White Woven Wall Hanging
$75
DESCRIPTION
This black and white weaving was handmade on a frame loom and hangs from a wood dowel. We used our own abstract weaving technique at the top in a fluffy white yarn (with little black dots throughout!) with a cool "swoop" fringe detail in a black and white cotton yarn called "tv static" to add movement. I love that such a neutral piece like this can still pack a punch with its texture! The weaving is lightweight and can be hung from a small nail or a string tied to the dowel.

The mix of textures and fun color palette adds great dimension that can fit anywhere in your home. Looks great incorporated into a gallery wall or on its own as a standout piece.

- 12" wood dowel
- weaving is 10.75" wide and 8" long
- hand woven without a pattern, so you are the only one who will ever have this exact design

.....


Our goal is always to make something unique and beautiful that fits perfectly into your life and your space. If you need a different color, size or quantity, please don't hesitate to contact us for a custom piece all your own.
***Local pick up or contact Lauren at laurenemooney@gmail.com for shipping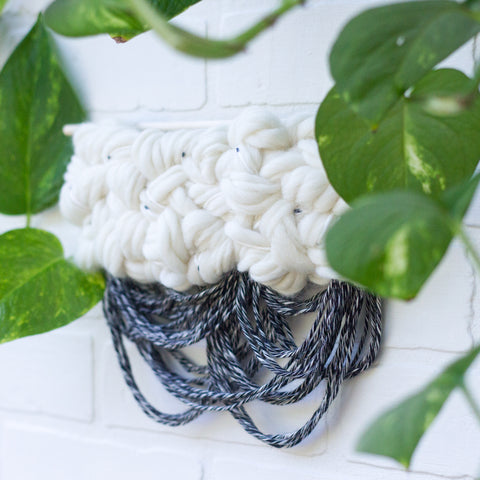 ---
More from this collection